Editorial written by Native Journalist Jenni Monet on CNN.com
Jenni Monet is a journalist and documentary filmmaker who writes and makes films about Native and indigenous issues. She is a frequent contributor to Indian Country Today Media Network and a tribal citizen of the Pueblo of Laguna. She tweets [MENTION=6767]Jenn[/MENTION]imonet.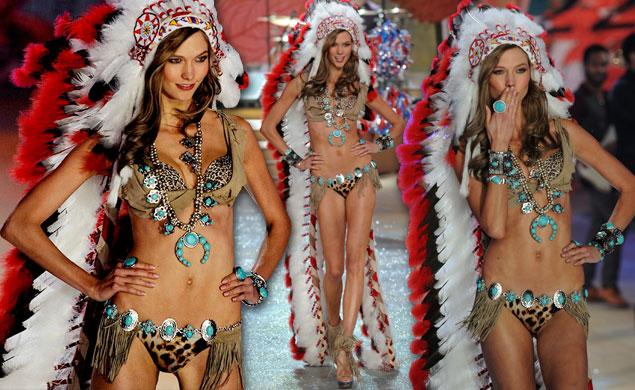 By Jenni Monet, Special to CNN
(CNN) – As another Native American Heritage Month comes to an end, I have to stop and ask, did anybody other than Native folks even know it was taking place?
Since 1990, the federal government has declared the month of November a time to pay tribute to the achievements of the nation's estimated 2.9 million American Indians and Alaska Natives (PDF).
The national observance is not unlike America's commitment to African-American history month or Hispanic heritage month, a time of year that major brands have come to commercialize in recent years.
Thanksgiving is some Native Americans' 'Day of Mourning'
But little recognition has been paid to the original inhabitants who represent 1% of the U.S. population. Instead, this November, there has been a series of cultural gaffes made by celebrities, journalists and large companies during a time set aside to acknowledge and honor Native people.
It began with the release of "Looking Hot," the comeback video for rock band No Doubt. The Wild West-themed production featured lead singer Gwen Stefani dressed in Native American-style clothing and taking part in fictitious Native rituals.
After social media outcry from the Native American community, No Doubt posted an apology on its website and agreed to pull the video one day after its release. "As a multi-racial band our foundation is built upon both diversity and consideration for other cultures," the group's statement read. "Our intention with our new video was never to offend, hurt or trivialize Native American People, their culture or their history."
But damage had already been done. The Daily Mail Online, a UK-based publication, labeled Stefani's character as a Native American "squaw." The Algonquin word today is frequently considered offensive to Native women, from condescending images to explicit racial epithets similar in tone to other ethnic monikers such as "Negress" or "Jewess." Had the Mail's journalist referenced even the most elementary source, the Merriam-Webster dictionary, it may have avoided making a remark degrading to indigenous women.
Meanwhile, in coverage of the band's misstep, the Los Angeles Times hosted a poll on its website. "Were you offended by the 'Looking Hot' video?" it asked, to which an overwhelming 65% of readers responded "no."
The Huffington Post raised a similar question in the aftermath of Victoria's Secret's headdress faux pas: the runway disaster featuring supermodel Karlie Kloss scantily clad in a Native American-style headdress and chunky turquoise jewelry. In its online poll, nearly half of its readers felt "people shouldn't be so sensitive" to these kinds of cultural flareups. On November 10, Victoria's Secret apologized and said it will remove Kloss' controversial look from the upcoming television special.
Navajo Nation sues Urban Outfitters for alleged trademark infringement
While statistics like these are far from scientific, I can't say that the results are all that startling. The reality is, Native Americans have long suffered a public relations problem in a society that would rather regard today's Indians as relics of the past.
With few Native American staff in newsrooms, it's little wonder why the media reaction from the Stefani and Kloss incidents resulted in questioning the integrity of cultural appropriation rather than honoring Native people.
In addition, what lies at the core of these sexually charged fetishizations of Native women is an ongoing fight to protect the safety of Native women. According to congressional findings of the 2010 Tribal Law & Order Act (PDF), 34% of American Indian and Alaska Native women will be raped; 39% will be subjected to domestic violence. That is more than twice the national average. In addition, the 2008 study by the National Institute of Justice (PDF) suggests that on some reservations, Native women are murdered at more than 10 times the rate of their non-native counterparts.
In the past year, Native advocacy leaders have made a push to reauthorize the Violence Against Women Act in Congress. The law would empower tribes for the first time to seek justice against non-Indian offenders.
Where Native voices are being heard is on the message boards of Facebook and Twitter. American Indian activists and scholars are some of today's authors behind a budding collection of blogs shining a light on these issues and others that matter most to the Native community But so far, it seems the only people paying attention are Native peoples.
Despite all the uproar from the Native community that occurred in the aftermath of the No Doubt and Victoria's Secret incidents, the restaurant chain Hooters was the latest to issue a mea culpa on November 15 after hosting a "Cowboys and Indians"-themed dress-up day for its staff at one of its Indian franchises. "We admire and honor Native American culture and history and never intended to offend," read the statement from Hooters Corporate.
Thanks for the apologies, Hooters, Victoria's Secret and Gwen Stefani, but next year, can you please acknowledge Native American Heritage Month and just say no to "playing Indian"?
The opinions expressed in this commentary are solely those of Jenni Monet.