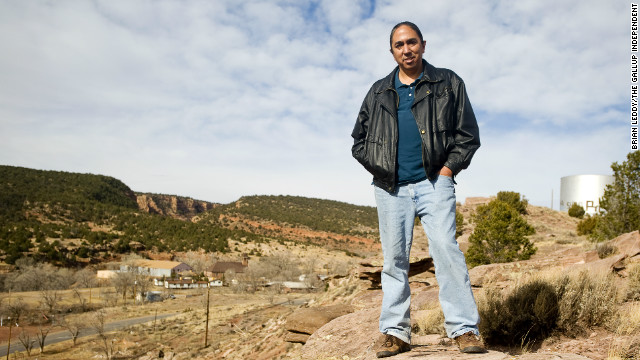 Navajo man wants the nation to hear its official apology
By Moni Basu, CNN
(CNN) – Buried on page 45 of the 2010 Defense Appropriations Act, after pages on the maintenance and operation of the U.S. military, is an official apology to Native American people.
Mark Charles, a member of the Navajo Nation, stumbled onto the apology about a year ago after he heard GOP presidential hopeful Mitt Romney say that he would never apologize for America. That comment didn't sit well with Charles - nobody is perfect, he thought.
He wrote a blog post that cited several situations in which he believed it was prudent for America to say sorry. One of them was to native people.
In rare apology, House regrets exclusionary laws targeting Chinese
A reader responded that such an apology had already been issued. Charles went online and found the 2010 Defense Act.
The United States, acting through Congress ... recognizes that there have been years of official depredations, ill-conceived policies, and the breaking of covenants by the federal government regarding Indian tribes; apologizes on behalf of the people of the United States to all native peoples for the many instances of violence, maltreatment, and neglect inflicted on native peoples by citizens of the United States ...
It went on to urge the president to acknowledge the wrongs.
Charles wondered why he had never heard President Barack Obama publicly issue this apology. And if he had never heard it, then most certainly native people who lived isolated lives on reservations had not either.
He set himself on a path to rectify that.
On the anniversary of the passing of the defense bill - Wednesday, December 19 - he would go to the Capitol and he would read the apology out loud, hoping that others would join him in his cause and that it would attract enough attention so that people would hear about it.
At 11 a.m. Wednesday, Charles plans to read the entire defense bill out loud.
"As a Native American, I feel offended that the apology was buried in this bill," he said. "It demonstrates our country is not ready to apologize.
"Personally, I don't think it's a very good apology," he said. "It does not mention any specific tribe or any specific incident."
It also contains a disclaimer at the end: nothing in the apology could be used in a court of law against the United States.
Charles's mother is of Dutch heritage. His father's mother is Navajo. Born in Reheboth, New Mexico, Charles went to UCLA and lived in Denver. But he'd never called called the reservation home. He realized if he were to continue a dialogue about Native Americans - the people with whom he identified - he would need to experience the way they lived.
A few years ago, he took his wife and son and spent several years at a Navajo reservation sheep camp. It was off a dirt road and isolated.
There were only two kinds of outsiders who visited there - those who came for charitable reasons and those who came to click their cameras.
There was little there in the way of infrastructure, no running water or electricity. Charles lived by candlelight and hauled his water. But that was not the hardest part of living there.
"The hardest part was how incredibly lonely and disconnected you feel from the rest of the country," he said.
That's when Charles began to comprehend why many native people felt marginalized.
"I don't believe it's an accident that our people are marginalized," he said. "Our country is so undereducated in Native American history that most people don't even know why the country is apologizing."
Charles felt angry. He knew he had to channel his pain in a way that invited conversation and reconciliation. He began to reflect on a blog, Wireless Hogan, named after the traditional dwelling of the Navajos.
This is how he explains things to people:
Being Native American and living in the United States feels like our indigenous peoples are an old grandmother who lives in a very large house. It is a beautiful house with plenty of rooms and comfortable furniture. But, years ago, some people came into our house and locked us upstairs in the bedroom. Today, our house is full of people. They are sitting on our furniture. They are eating our food. They are having a party in our house. They have since unlocked the door to our bedroom but it is much later and we are tired, old, weak and sick; so we can't or don't come out. But the part that is the most hurtful and that causes us the most pain, is that virtually no one from this party ever comes upstairs to find us in the bedroom, sits down next to us on the bed, takes our hand, and simply says, "Thank you. Thank you for letting us be in your house."
Charles hopes all of America will hear his message when he reads the apology in Washington.