Bert Fremont - Omaha - 1900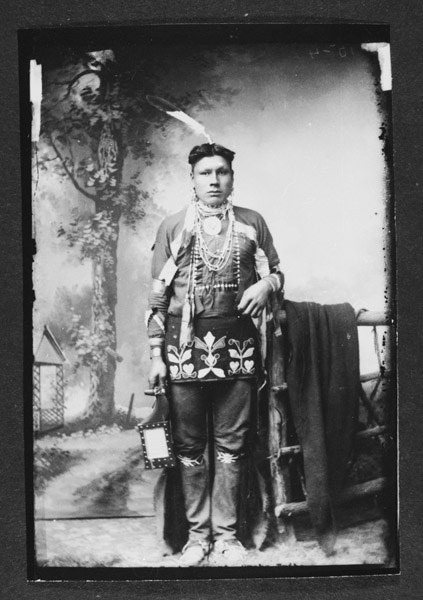 Most straight dancers today carry a mirror board in addition to their tail fan. Concerning the mirror board Dr. James Howard states in his work titled
The Ponca Tribe
, that,
"A heliograph signaling device consisted of a trade mirror set in a carved wooden frame. According to PLC
(Peter LeClair)
the Ponca used sheets of mica for these heliograph mirrors before the days of the trade mirror. Later these mirrors became a favorite article of Hethuska dance paraphernalia."
(Howard, 1965, p. 72)
In addition to the mirrorboard being used as a functional signal device, it was thought by many Plains tribes including the Ponca, that the mirror was sacred.
For some, the light reflected in a mirror resembled the flash of lightning during a thunderstorm, and since the power of thunderstorms had a connection with warfare, the mirrorboard became a symbol for warriors of the power associated with thunder and lightning. (Abe Conklin, Ponca/Osage, 1987)
Among other plains tribes the mirror was sacred as a device to protect the owner from spiritual harm. It was believed that as light is deflected by the mirror in another direction, so to would bad medicine or spells made by witches or medicine men among enemy tribes be deflected in another direction thus protecting the owner from the harmful effects of the bad medicine.
For this reason, many mirror boards had sacred designs carvinged or painted on them, or protective amulets tied to them to enhance their protective capabilities for the owner. (Abe Conklin, Ponca/Osage, 1987)
William Wildshut eludes to the sacred nature of the "medicine mirror" in a mirror board when he wrote,
"In early days these mirrors were used in war expeditions for the purpose of bringing good fortune to the owner in all his undertakings. This is symbolized by the light reflected by a moving mirror, as it is impossible to catch the light, so it was impossible for the enemy to capture or to injure the wearer of the medicine mirror."
(Wildshut, 1904)
Today the mirror board is usually composed of a larger single glass mirror or three to four smaller mirrors, mounted on a wooden board which could be in any one of a number of different shapes, with some sort of handle. The board can be ornately carved, decorated with paint, wood stain or brass tacks.
In a demonstration of different art forms, I have seen mirror boards with a handle carved into the shape of a horse's head and board decorations in bone or silver inlay designs. It is not unusual even today, to see decorations with spiritual significance added to the mirror boards, such as bits of fur, claws, feather dangles or small amulet bundles. Some straight dancers attach to their mirror board, little bundles of powder paint, since the mirror boards are often used while applying face paint.
Howard, Dr. James H.
1965.
The Ponca Tribe
. Bureau of American Ethnology, Bulletin 195, Smithsonian Institution, U.S. Government Printing Office, Washington, D.C.
Wildshut, William.
1904.
Arapaho Medicine Mirror
. Indian Notes and Monographs, Vol. 4, No. 3, Museum of the American Indian, Heye Foundation, NY.