An outer belt is always worn with a straight dance outfit of any tribal style.
Among the Ponca, Osage, and Pawnee the average type of belt is usually made of stiff leather between four and six inches wide. Most commonly, a loom-beaded strip of geometric beadwork is mounted in the center of the leather belt, leaving about one half to one inch of leather showing across the top and bottom edges. Frequently the blank space of leather on the top and bottom edges are decorated with silver spots. Two to three buckles will fasten the leather belt in back.
Normally the beaded belt is worn over the ribbonshirt, and if beaded aprons are worn, the beaded leather belt covers the top edge of the aprons in front and back.
Omaha man - 1898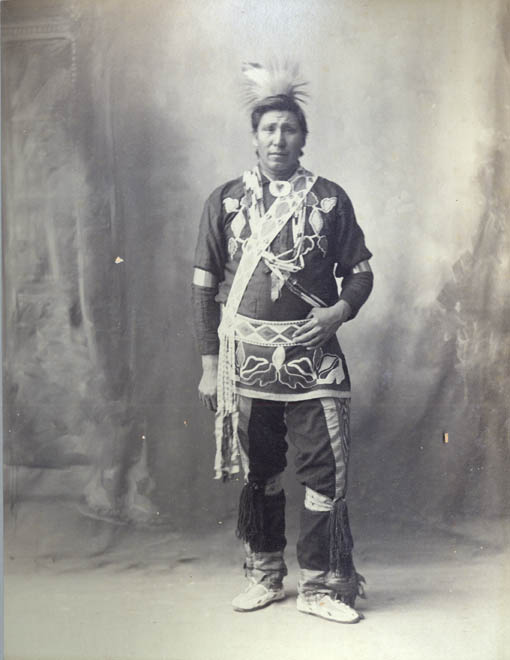 Victor Dupee – Iowa – 1900
Blue Hair – Iowa – 1900
Bacon Rind – Osage – 1900
George Michelle - Osage - 1905
John Wood - Osage - 1910
Examples of beaded belts:
Omaha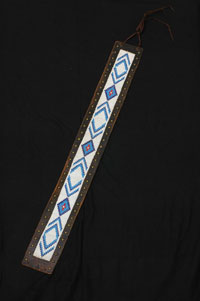 Among the Comanche, Southern Cheyenne, Kiowa and some other tribes, it is not uncommon to see trade-silver discs or "concho" discs mounted on a leather belt in place of the beaded belt.
Omaha men - 1907
Fisher Walker and Charlie Parker - Omaha - 1922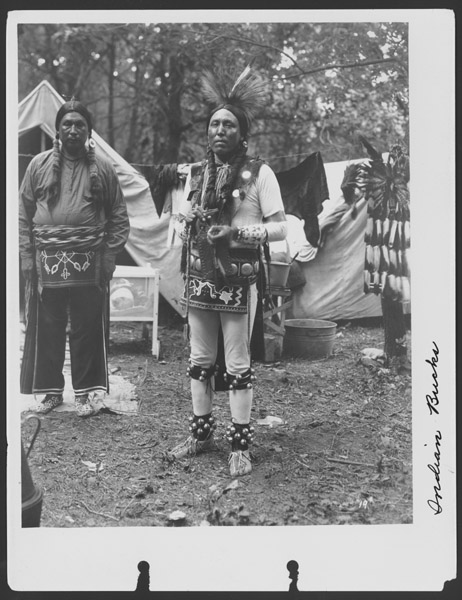 Southern Cheyenne
Peabody Museum Number: 38-44-10/12781
Bailey, Garrick, and Daniel Swan.
2004.
Art of the Osage
. St. Louis Art Museum, University of Washington Press, Seattle, WA.
Barth, Georg J.
1993.
Native American Beadwork
. R. Schneider Publishers, Stevens Point, WI.
Callahan, Alice A.
1990.
The Osage Ceremonial Dance, I'n-Lon-Schka
. University of Oklahoma Press, Norman, OK.
Feder, Norman.
1957-a.
Costume of the Oklahoma Straight Dancer
. The American Indian Hobbyist Newsletter, Vol. 4, No. 1.
1957-b.
Costume of the Oklahoma Straight Dancer
. The American Indian Hobbyist Newsletter, Vol. 4, No. 2.
1961.
Plains Indian Metalworking, Part Two
. American Indian Tradition Newsletter, Volume 8.
Hail, Barbara N.
1980.
Hau, Kola!: The Plains Indian Collection of the Haffenreffer Museum of Anthropology
. Brown University, Bristol, RI.
Howard, Dr. James H.
1965.
The Ponca Tribe
. Bureau of American Ethnology, Bulletin 195, Smithsonian Institution, U.S. Government Printing Office, Washington, D.C.
1976.
Ceremonial Dress of the Delaware Man
. Special Issue, The Bulletin of the Archeological Society of New Jersey, No. 33, Seton Hall University, South Orange, NJ.
LaFave, Edward J.
1998.
Straight Dance Clothing: How to Dress a Straight Dancer
. Whispering Wind: American Indian Past & Present Magazine, Vol. 29, No. 4, Folsom, LA.
Orchard, William C.
1929.
Bead and Beadwork of the American Indians
. Contributions from the Museum of the American Indian, Vol. 11, Heye Foundation, New York, NY.
Smith, Jerry.
1982.
Straight Dance Clothes: Getting Them On
. Moccasin Tracks Magazine, April Issue, LaPalma, CA.
Stewart, Tyronne H.
1968.
Dressing a Straight Dancer
. The Singing Wire Newsletter, February Issue.