Though most straight dancers will just have ribbon trim on a ruffled cuff of the ribbonshirt sleeve, occasionally I've seen dancers with some additional form of wrist decoration.
Among the Osage, Omaha, Comanche, and Kiowa as well as a number of other tribes, it's was not uncommon to see bracelets of stamped trade-silver in varying widths as seen in the photos below. Among the Comanche, Kiowa and some of the more southern tribes, "sandcast" silver bracelets made by the Dineh are sometimes seen on occasions as well.
Buck Elk Walking and Blackbird - Omaha/Missouri - 1875
Bert Freemont with wives - Omaha - 1885
Bert Fremont - Omaha - 1900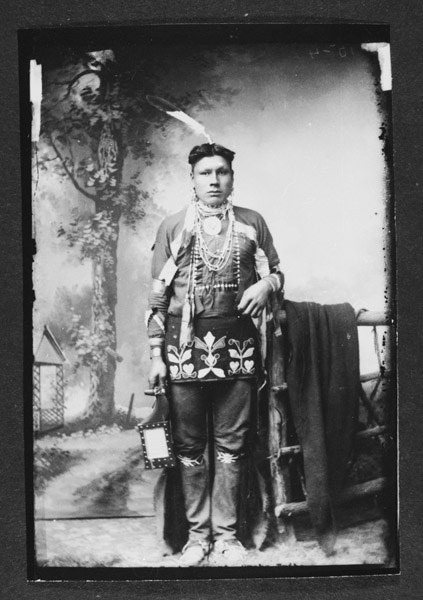 Bacon Rind – Osage – 1900
White Swan - Omaha - no date
Joseph Springer – Iowa – 1901
Omaha men - 1907
Standing Bear - Omaha - 1909
Among the Ponca, Kiowa Omaha and other tribes, it was not uncommon for dancers to wear lazy-stitched beaded cuffs as seen in some of these photos below in the early 1900s. Today, some straight dancers are now wearing beaded cuffs over their ribbonshirt cuffs.
Fisher Walker, Charlie Parker - Omaha - 1922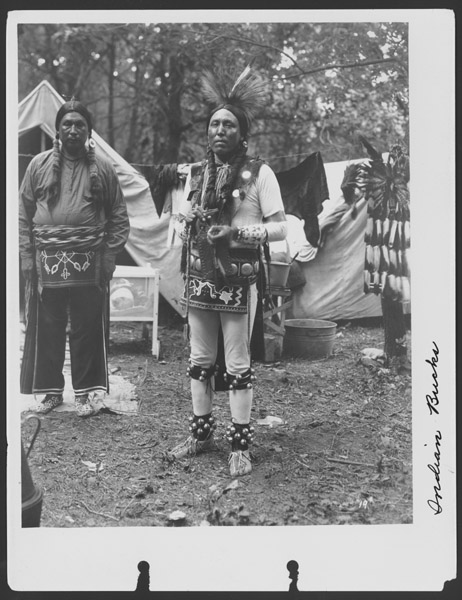 Ponca Dancer - 1927
Kiowa dancer - circa 1930
Bailey, Garrick, and Daniel Swan.
2004.
Art of the Osage
. St. Louis Art Museum, University of Washington Press, Seattle, WA.
Barth, Georg J.
1993.
Native American Beadwork
. R. Schneider Publishers, Stevens Point, WI.
Callahan, Alice A.
1990.
The Osage Ceremonial Dance, I'n-Lon-Schka
. University of Oklahoma Press, Norman, OK.
Feder, Norman.
1957-a.
Costume of the Oklahoma Straight Dancer
. The American Indian Hobbyist Newsletter, Vol. 4, No. 1.
1957-b.
Costume of the Oklahoma Straight Dancer
. The American Indian Hobbyist Newsletter, Vol. 4, No. 2.
1961.
Plains Indian Metalworking, Part Two
. American Indian Tradition Newsletter, Volume 8.
Hail, Barbara N.
1980.
Hau, Kola!: The Plains Indian Collection of the Haffenreffer Museum of Anthropology
. Brown University, Bristol, RI.
Howard, Dr. James H.
1965.
The Ponca Tribe
. Bureau of American Ethnology, Bulletin 195, Smithsonian Institution, U.S. Government Printing Office, Washington, D.C.
1976.
Ceremonial Dress of the Delaware Man
. Special Issue, The Bulletin of the Archeological Society of New Jersey, No. 33, Seton Hall University, South Orange, NJ.
LaFave, Edward J.
1998.
Straight Dance Clothing: How to Dress a Straight Dancer
. Whispering Wind: American Indian Past & Present Magazine, Vol. 29, No. 4, Folsom, LA.
Orchard, William C.
1929.
Bead and Beadwork of the American Indians
. Contributions from the Museum of the American Indian, Vol. 11, Heye Foundation, New York, NY.
Smith, Jerry.
1982.
Straight Dance Clothes: Getting Them On
. Moccasin Tracks Magazine, April Issue, LaPalma, CA.
Stewart, Tyronne H.
1968.
Dressing a Straight Dancer
. The Singing Wire Newsletter, February Issue.