Armbands are usually made from stamped trade-silver and are worn at the lowest part of the upper arm, just above the elbow. Usually, a one inch wide satin ribbon or ribbons, most often in a color matching the neckerchief and shoulder scarves, is folded evenly over the back of each armband so as to have the strips of ribbon about twelve inches long, hanging freely.
Buck Elk Walking and Blackbird - Omaha/Missouri - 1875
Bert Freemont with wives - Omaha - 1885
Bert Fremont - Omaha - 1900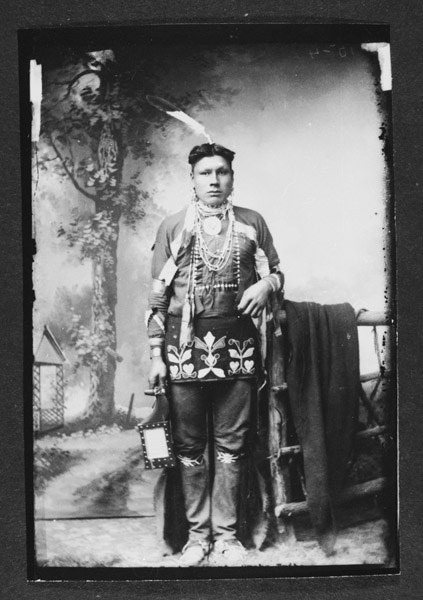 Bacon Rind – Osage – 1900
White Swan - Omaha - no date
Joseph Springer – Iowa – 1901
Omaha men - 1907
Standing Bear - Omaha - 1909
Bailey, Garrick, and Daniel Swan.
2004.
Art of the Osage
. St. Louis Art Museum, University of Washington Press, Seattle, WA.
Callahan, Alice A.
1990.
The Osage Ceremonial Dance, I'n-Lon-Schka
. University of Oklahoma Press, Norman, OK.
Feder, Norman.
1957-a.
Costume of the Oklahoma Straight Dancer
. The American Indian Hobbyist Newsletter, Vol. 4, No. 1.
1957-b.
Costume of the Oklahoma Straight Dancer
. The American Indian Hobbyist Newsletter, Vol. 4, No. 2.
1961.
Plains Indian Metalworking, Part Two
. American Indian Tradition Newsletter, Volume 8.
Hail, Barbara N.
1980.
Hau, Kola!: The Plains Indian Collection of the Haffenreffer Museum of Anthropology
. Brown University, Bristol, RI.
Howard, Dr. James H.
1965.
The Ponca Tribe
. Bureau of American Ethnology, Bulletin 195, Smithsonian Institution, U.S. Government Printing Office, Washington, D.C.
1976.
Ceremonial Dress of the Delaware Man
. Special Issue, The Bulletin of the Archeological Society of New Jersey, No. 33, Seton Hall University, South Orange, NJ.
LaFave, Edward J.
1998.
Straight Dance Clothing: How to Dress a Straight Dancer
. Whispering Wind: American Indian Past & Present Magazine, Vol. 29, No. 4, Folsom, LA.
Smith, Jerry.
1982.
Straight Dance Clothes: Getting Them On
. Moccasin Tracks Magazine, April Issue, LaPalma, CA.
Stewart, Tyronne H.
1968.
Dressing a Straight Dancer
. The Singing Wire Newsletter, February Issue.